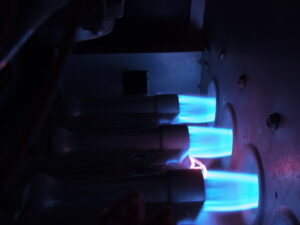 We don't really install oil heaters anymore. This isn't by accident, and it's not because we don't know how to, but it's mainly because we just don't want to anymore. They're not a very good investment and they're getting more and more expensive or outdated with each passing year.
Oil heaters used to be more of an investment in the 70s and 80s when natural gas was less pervasive. Oil production used to be a booming industry, so it was easier to have more competitive oil prices and keep things relatively affordable. These days, between the hyper-efficient electrical heaters we have available and the powerful natural gas systems that can heat any home, oil heaters don't have as prominent a place as they used to.
Today, we'd like to talk about heating replacement, one of our most popular heating services in Cranbrook, and the benefits of replacing your old oil heater.
Reliability
If you've got an oil heater, chances are that it's getting up there in age. Older heaters are less reliable than newer ones, and regardless of the type of heater, if it's 10-15 years in age or older, then it needs to be replaced by a system that will treat you right.
An older, less reliable system will need more frequent repairs, more expensive repairs, and it will often break down when you need it the most. It's important to keep this in mind when evaluating your oil furnace or boiler, and determining where to go from here.
A newer natural gas-powered furnace, or an electric heat pump will be more reliable than your older oil-burning system. This alone is a great reason to upgrade.
High Efficiency
Efficiency means everything in this industry. The less fuel you need to burn to heat your home, the less you'll be paying on your heating bill every month. That's why we'd like to talk about the price of oil vs the price of natural gas.
Oil simply costs more than natural gas when it comes to heating fuel. Natural gas is clean burning and an extremely plentiful fuel source in our area. Therefore, you'll get it at a cheaper price than oil. Natural gas furnaces are also incredibly efficient, some recent models going above 95 AFUE which means over 95% of the fuel burned turns into heat for your home. This is a huge improvement from older furnaces.
It's All About Paying Less
One key reason to invest in a natural gas furnace is the fact that much of our oil comes internationally in shipments. You need to schedule monthly shipments of oil from truck, and that oil could be coming from overseas, which means the price of it can fluctuate drastically due to world events.
Natural gas is a stable fuel and the vast majority of it is produced locally. You'll ultimately be paying less in the long run for a natural gas furnace and especially when you work with our team, you'll get the best prices available.
Let's start you on the track to paying less for your heating.
Call Shift Air Mechanical B.C. to replace your oil heater today. Shift Air tests, doesn't guess!